Welcome to the Learning Lab
Building on initiatives in blended learning in the era before campus closures, academic developers and researchers have collaborated to creatively meet the design challenges created by new demands on university learning spaces. We adopted three key principles to reimagine and re-design our existing, fixed-tier professional learning rooms for HKU's academic teachers – flat, flexible, and interactive.
The Learning Lab was launched in May 2022 to support innovation, including addressing the post-pandemic demand for synchronous hybrid learning. The community acknowledges and appreciates the funding support from the University Grants Committee and the University of Hong Kong and welcomes colleagues to visit and experiment with new ways of connecting with our students.
Susan M. Bridges
Former Director, Centre for the Enhancement of Teaching and Learning
The Learning Lab supports various synchronous hybrid teaching and learning configurations to cater to different pedagogies. From knowledge sharing, group collaboration, team teaching, and hybrid presentation, the Learning Lab can be reconfigured into different environments conducive to more collaborative, dialogic, and interactive.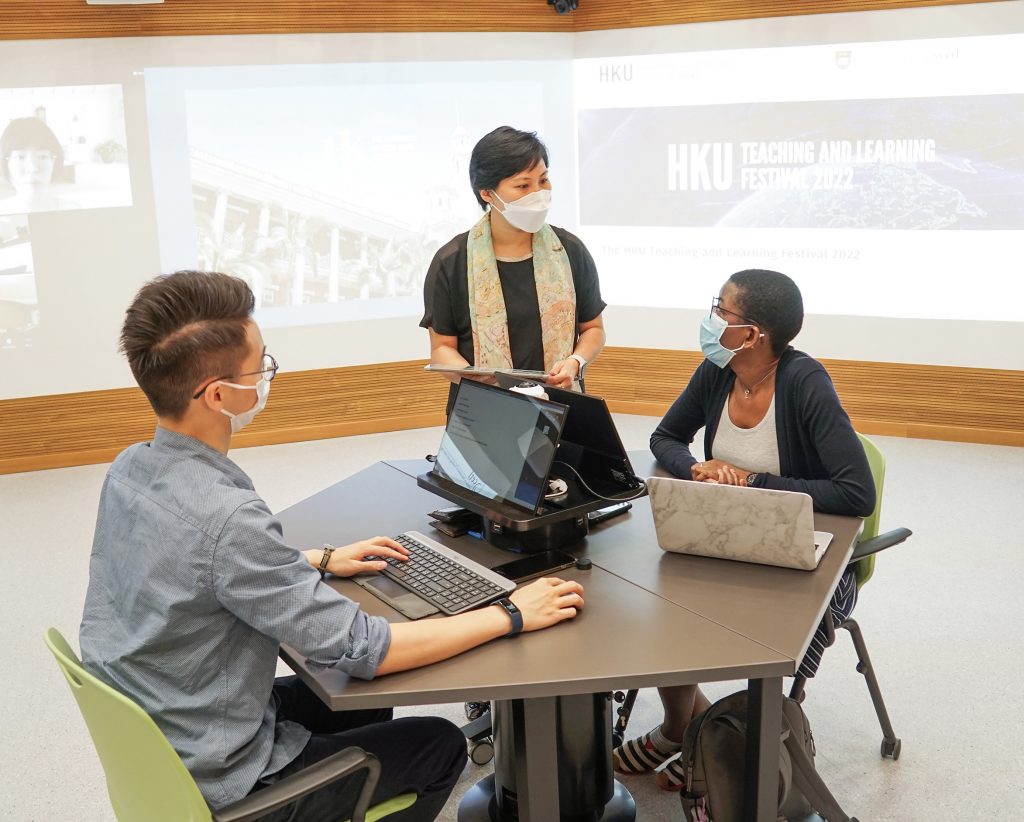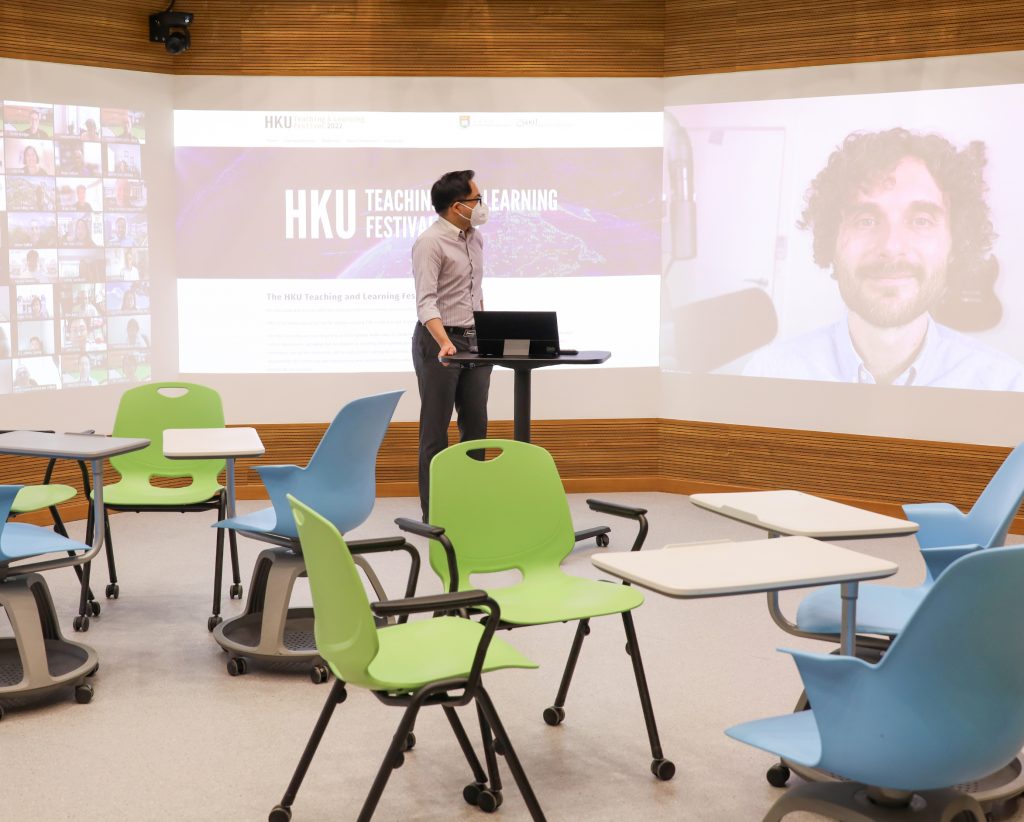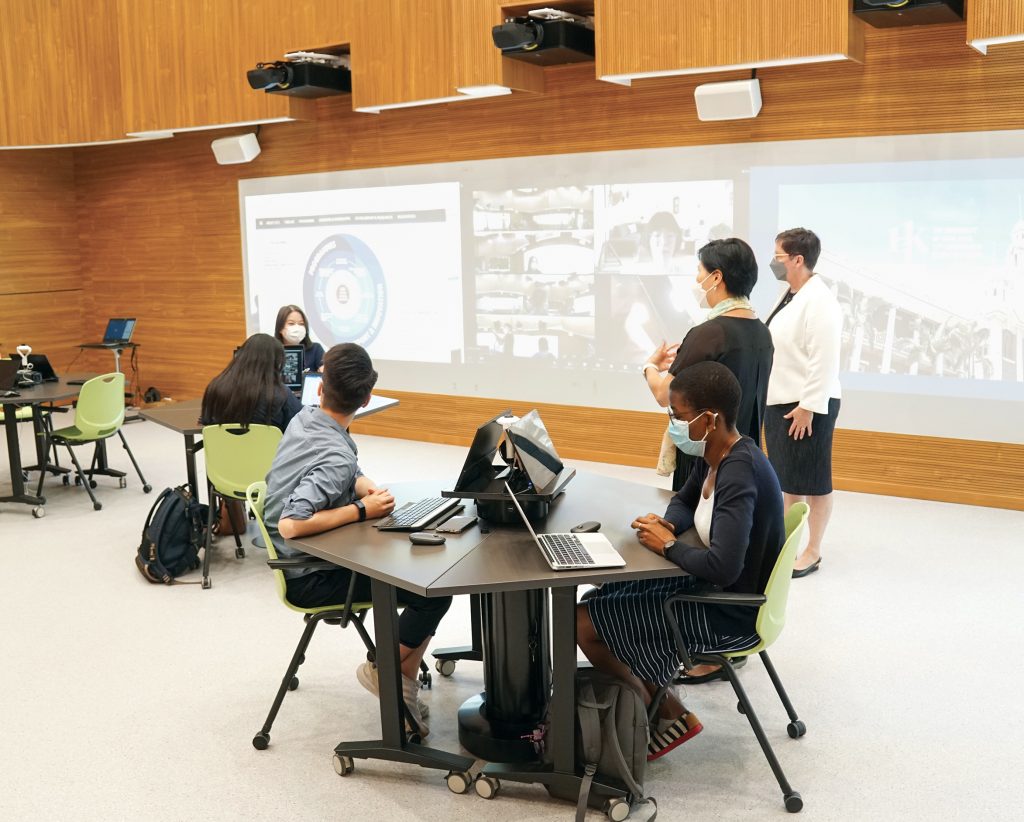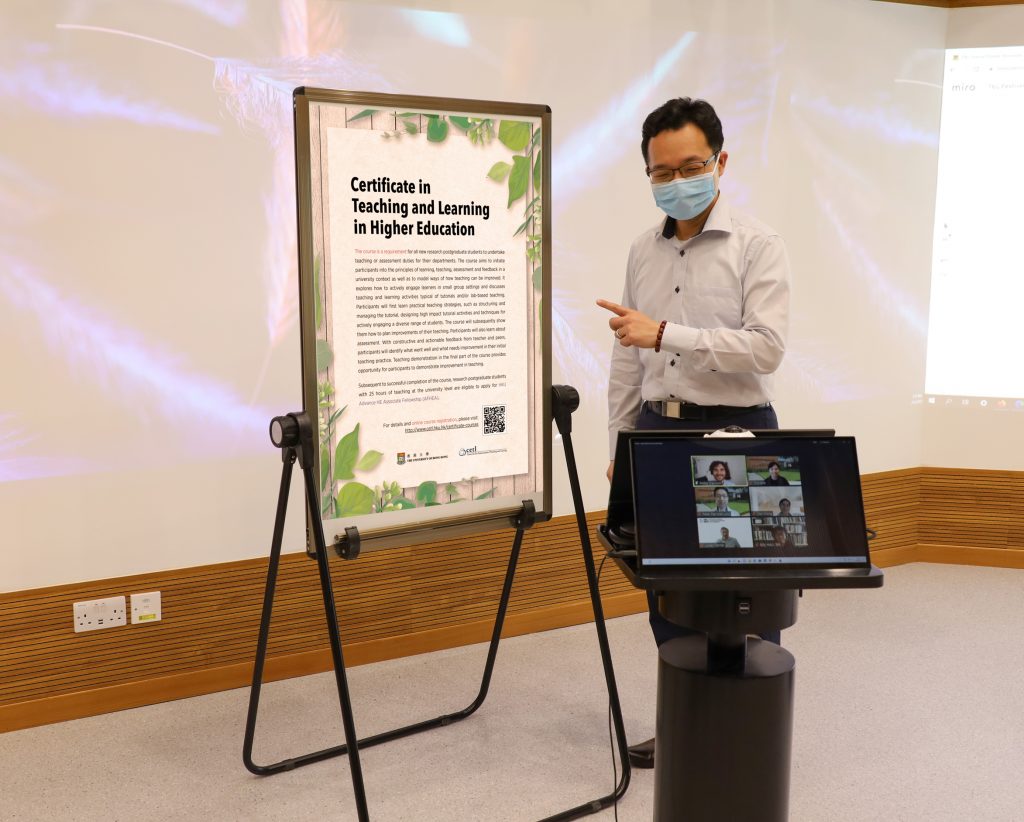 The learning environment is designed with technical affordances that can effectively integrate e-learning technologies into a holistic learning environment.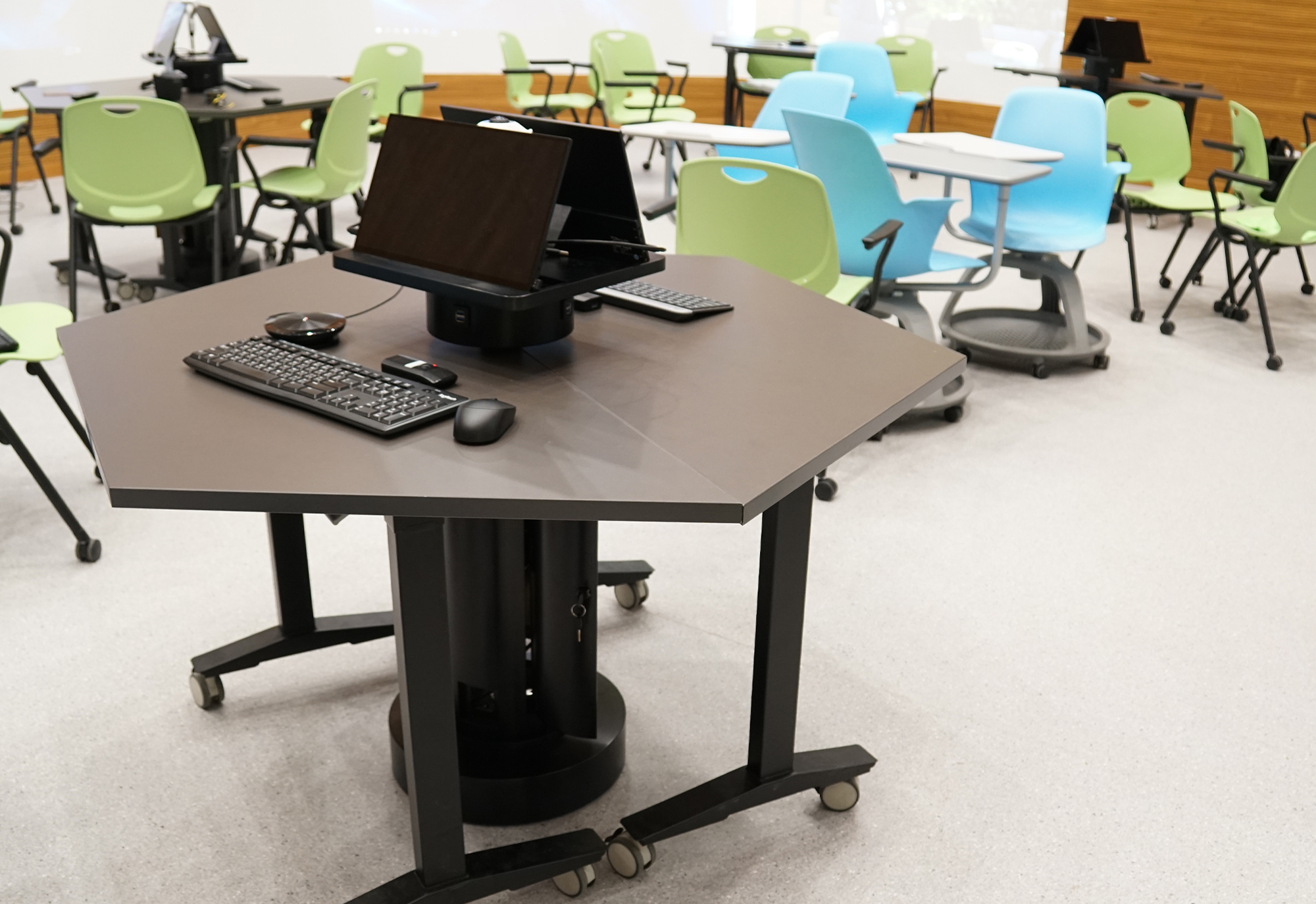 Hybrid Learning Mobile Desk Console
Zoho 15" touch monitor
Shure boundary microphone
Jabra Speak 510 speakerphone
J5Create 360° all around webcam
All-in-one PC – Dell Optiplex 7090 ultra
Logitech MK470 wireless slim keyboard
Maxpower 40800mAh portable battery
Crestron AV control system
Extron 8-in 8-out video matrix
Infra-red auto-tracking camera
AirServer screen mirroring system
Shure wireless microphone system
Barco professional ultra-short throw projectors
Extron video wall processor supporting 4K/60 video and display systems of any size
Barco Clickshare wireless presentation system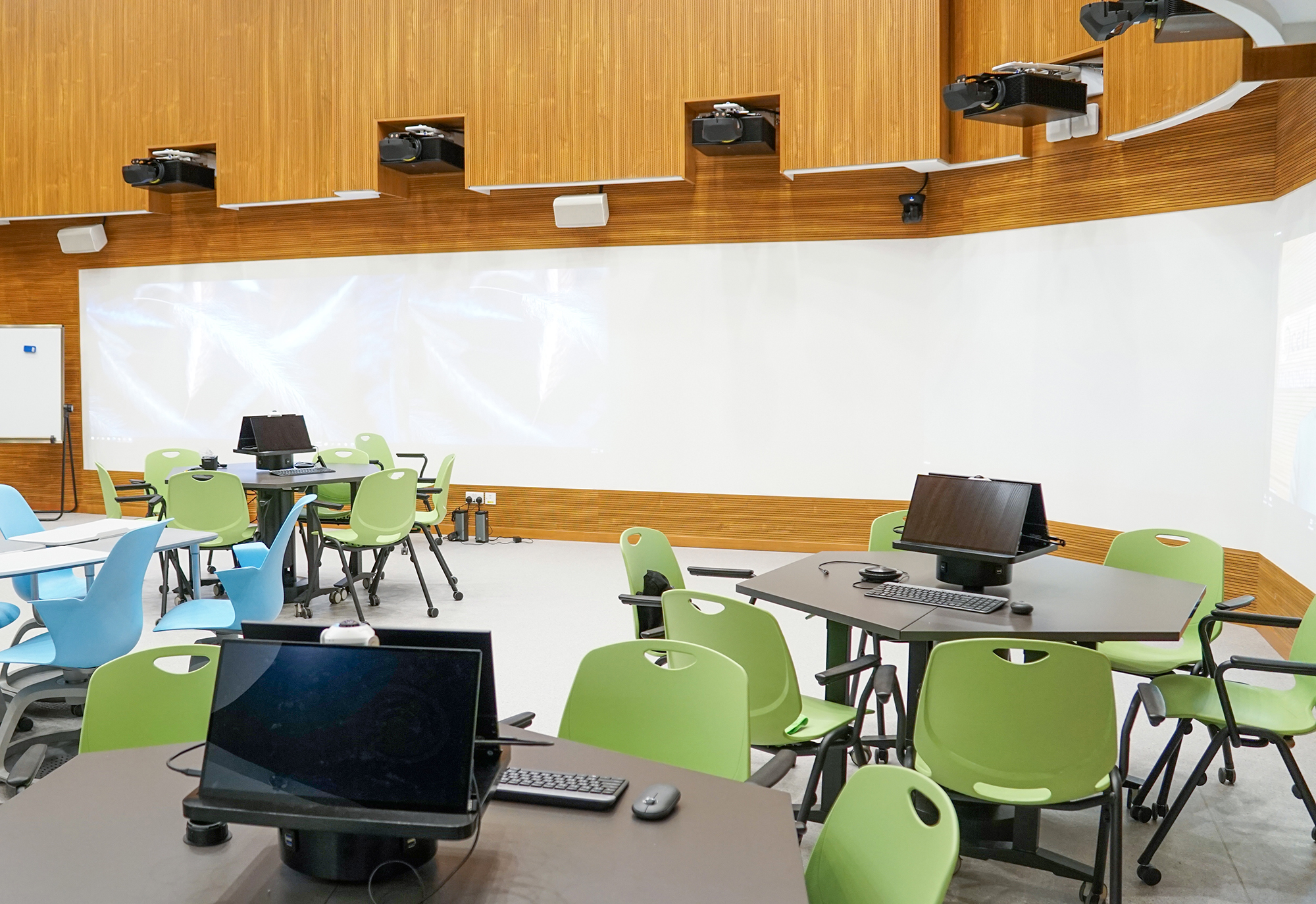 The Learning Lab is equipped with a living green wall to integrate natural elements. It aims to enhance the sense of nature and lessen the stress of the learners.
Outreach and Dissemination
The learning lab has been presented and featured in various conferences and publications for its innovative approach to implementing synchronous hybrid learning in higher education.
Learning Lab
RRS 321-322, 3/F, Run Run Shaw Building, Main Campus, HKU
TALIC Office
CPD-1.73, 1/F, The Jockey Club Tower, Centennial Campus, HKU
(852) 3917 8996